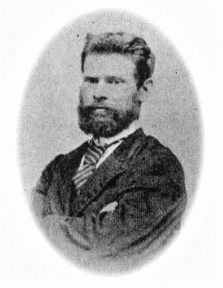 Born: 27 June 1840 (Linton, Berwickshire, England)
Died: 3 February 1933 (Bowen, Queensland, Australia) aged 92 years.
Buried: Aft. 3 February 1933 (Bowen Cemetery, Queensland)
Parents: Alexander SHIELS and Margaret SINCLAIR
Marriage: (1) 15 December 1862 (Rockhampton, Queensland) to Catherine PETRIE
(2) 28 February 1874 (Mackay, Queensland) to Mary Le Cheminant ROSS
Religion:
---
Little is known of Alexander Shiels' early life in Scotland. His father was born in Earlstone, Galashiels in 1792. He moved to Linton, Berwickshire, NE Lothian and set himself up as a merchant.
In 1830 he married Margaret Sinclair in Linton. Alexander was born in Linton, the sixth child of Alexander Sr. and Margaret.
In 1853 Alexander Sr. and Margaret decided to migrate to Australia. The family of ten children minus the eldest son Tom, emigrated to Australia, arriving in Melbourne in the sailing vessel "Wacousta". Alex was thirteen years old and we presumed he finished his schooling in Melbourne.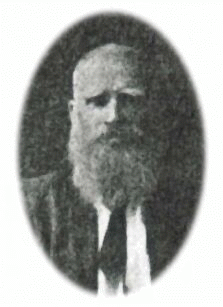 Alexander Shiels in later life
He entered the service of the Union Bank of Australia in Melbourne. One of his duties was to convey gold from Ballarat to Melbourne, and he mentioned he had many exciting experiences during those early days. While conveying gold from Ballarat to Melbourne he was held up by bushrangers. His younger brother John also joined the staff of the Union Bank of Australia in Melbourne. Records showed that at the time of his death in 1920, John was the third manager of the Bank of Adelaide in Adelaide, and was recognised as one of the keenest financial men of that city.
In 1858 gold was discovered in the Fitzroy River, near Rockhampton which brought masses of diggers to the area. The gold strike was limited, but it opened the rich land of the Fitzroy River basin to farming and grazing. People settled and the embryo town of Rockhampton was founded --- a busy station for trade. Soon after Alex journeyed to Rockhampton, still in its infancy, where he was employed in the Australian Joint Stockowners Bank, which also had a branch in the early settlement of Bowen.
On December 15th, 1862, at the age of twenty-two years, he married Catherine Petrie in Rockhampton.
In the meantime many explorers, Dalrymple, Mackay, Leichhardt were gradually working their way north and west looking for pastoral and agricultural lands thus opening up country to squatters who formed settlements. Actually the new colony of Queensland (proclaimed in London on June 3rd 1859) could be attributed to the enterprise of the squatter, the pioneer of civilization in Australia. This necessitated the discovery and opening up of fresh ports for shipment of produce and supplies. By the end of 1859, ports of Maryborough, Port Curtis, Rockhampton were successfully established. Port Denison at Bowen became Port of Entry and Clearance about March 1861, though Pool Island was used earlier with supplies discharged onto lighters. On February 5th 1863 Mackay was declared a Port of Entry and Clearance. About February 14th the first sailing ship "Murray" (Captain Till) arrived after an eight days journey from Rockhampton. Among the passengers were Alex Shiels and his wife. This was an adventurous voyage with the vessel having been forced to return to Keppel Bay twice with a cyclonic gale. Running short of provisions there was an attempt at rioting by the steerage passengers, but this was quickly subdued by the firmness of the Captain. A nearby ship ss "Ocean Chief" under Captain Davis assisted with fresh supplies. Unfortunately for the "Ocean Chief" shortly after she was grounded in the same bay in the same gale and broke her back.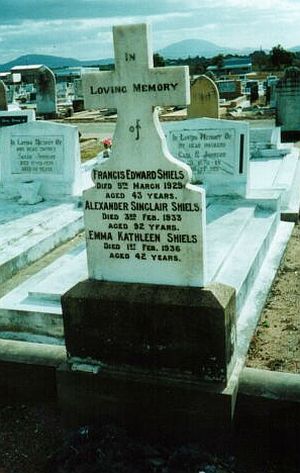 Alexander Shiels grave in the Bowen Cemetery (photograph courtesy of Mrs Margo Shiels, Bowen)
One 1st July 1864 the first land sale for suburban allotments in Mackay was held at Bowen. The "Williams", a steamer called at Mackay to take passengers up to Bowen for the sale, but owing to the late arrival of the boat in Bowen, only five of the sixty-two lots went to Mackay residents, among them were two blocks to John Allen (father to Emma Kathleen Shiels). Subsequent sales were held in Mackay, both town allotments and small farm areas. Among those to buy land in the first three years from 1864 was Alexander Shiels. He set himself up as an auctioneer.
In those early days there were many public services needed for the newly developed township to function with law and order, and Alex Shiels being community minded applied himself to the tasks on hand. The first post office was opened in Mackay in 1863, and as more settlers opened overland routes a public meeting of the more influential residents of Mackay was held to petition the Postmaster General to obtain postal services so urgently required. Alex Shiels was mentioned attending the meeting.
In 1866 another meeting was held when it was decided that the Government should proclaim Mackay a warehousing port (proposed by A..Shiels) and to ask the shipping company A.S.N. to reduce the freight on wool. As a result of the petition to the Government, Mackay was declared as a warehousing port on November 5th 1866.
Source:
Email from Margo Shiels, 20 August 2002
---
OBITUARY
Mr. Alexander Shiels, whose death at the age of 93 was briefly recorded in last notes, will be better remembered in Mackay than Bowen, as it was in that city that he first landed (writes the Bowen correspondent of Townsville Bulletin).
Mackay was declared a port of entry on February 5, 1863, and on or about the 14th of the same month the sailing ship Murray (Captain Till) arrived after an eight day trip from Rockhampton; she had been delayed at Keppel Bay owing to heavy weather, and the passengers had nearly been in a state of mutiny brought about by the shortage of food supplies. Their wants, however were somewhat relieved by Captain Davis, of the Ocean Chief. Mr. A. Shiels was one of the passengers aboard.
He engaged in several activities in an round Mackay. Several years ago he came to Bowen and took up his abode with his son, the late F.E. Shiels, and remained on with his daughter-in-law until the time of his death.
Mrs. Shiels was a daughter of the late John Allen, who also was an early settler in Mackay. The passing of these old-timers leaves a gap that will be hard to fill.
Source:
(1933, February 10), The Mackay Daily Mercury.
---
Alexander Shiels was an Accountant and was the proprietor of the Queen's Hotel (referred to as Shiels' Hotel) from about 1868-1869.This hotel was destroyed by fire in 1872. It was located on the corner of Sydney and Victoria Streets in Mackay where the ANZ Bank is presently located (2002).
---
Other Sources:
Lees, Wm. (1907) Mackay Illustrated, Special Issue of Queensland Country Life. Brisbane, QLD: Outridge Printing Co. Ltd. p. 23.
Ling Roth, Henry. (1908). The Discovery and Settlement of Port Mackay; Halifax, U.K: F. King & sons Ltd. p. 54,64,70
Queensland Births Deaths and Marriages, Registry of Births, Deaths and Marriages, Brisbane; Deaths 1930-1934, Microfische Sheet No. 006, Page No. 1505, Registration No. 1933/000034.
Norris, Merle. (1996) Queensland Hotels and Publicans Index (1843-1900).[Microfische]. Brisbane, QLD: Qld Family History Society.
Queensland Pioneers Index, 1829-1889
Queensland Federation Index 1890-1914.
---
If you can supply any further information or photographs on the above please contact us by EMAIL
Glen Hall
---
---
© Glen Hall 2001-2017.
last updated 17 Jul 2017 .
Site maintained by Glen Hall