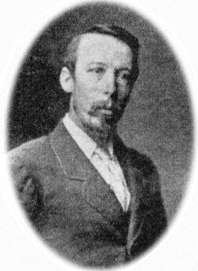 Born: December 1840 (Newbury, Berkshire, England)
Died: 1 September 1912 (Crescent Road, Hamilton, Brisbane, Queensland)
aged 72 years.
Buried: 2 September 1912 (Toowong Cemetery, Portion 12, Section No. 53,
Grave No. 2.)
Parents: James DALRYMPLE and Georgina HAY.
Marriage: 23 December 1880 (Queensland) to Euphemia Margaret McLEAN
Religion:
---
The Mackay District was discovered by Captain John Mackay in 1860 and the first settlers arrived 1862. The first land sales were held in Bowen in 1864 and two allotments were bought by David Hay Dalrymple where he established the first chemist shop in Sydney Street.

Mackay Municipal Council was proclaimed in 1869 and Dalrymple became the first mayor, a position he held through 1870, and 71. Alex Shiels was mayor in 1872, George Smith and Dalrymple in 1873 and Dalrymple himself in1874.

In 1876 he was in partnership with the Martin brothers, Bob and James, in Hamilton station in the Pioneer Valley. He later bought out Bob Martin's share in the property and remained in the partnership with James until the latter's death in 1880 when A.K. Murray bought into the property.

In 1877 he took part in the first (unsuccessful) attempt to climb Mt Dalrymple, the highest peak in the district (named after George Elphinstone Dalrymple, the explorer). Incidentally, just to confuse the issue, there was a Hewston Dalrymple Hay, harbour master, magistrate and customs collector in the early 1860's and 1870's. Hay Point and Dalrymple Bay, the big coal export terminals are named after him.

Dalrymple also accompanied the second successful assault on Mt. Dalrymple in July 1878 with H. Finch-Hatton, G,H. Maitland King, H.H. Lloyd, R. MacKenzie and E.S. Rawson. In 1983 a metal plaque was found on the mountain containing the names of the first four groups of people who climbed the mountain between 1878 and 1884. It was later found the plaque had been made and placed there by Matt O'Neill.

In 1880 Dalrymple was appointed by the government to the Pioneer Provisional Board.

In 1881 he was asked to nominate for Parliament but declined.
However, in 1887 he and Maurice Hume Black were elected the two representatives for the Mackay district. He served until 1904 and held the following ministerial positions:-
1896-1898 - Secretary for Public Instruction and Secretary for Public Works in Nelson Ministry
1898 April to October - Secretary for Public Instruction in Byrnes Ministry.
1898-1899 - Secretary for Public Instruction in Dickson Ministry.
1901-1902 - Secretary for Agriculture in Philp Ministry.
1902 -1903 - Secretary for Public Instruction

While he was in Parliament the first railway line in the Mackay district was under construction. This ran from Mackay through the Pioneer Valley.
Dalrymple played his part in promoting the various extensions.
1885 - Mackay to Mirani (formerly called Hamilton after the property).
1886 - Extension from Drapers Siding to Eton.
1887 - Section to Mirani West.
1902 - Mirani West to Cattle Creek- the terminus named Pinnacle after Dalrymple's section of Hamilton run.
1910 - Pinnacle to Finch-Hatton.
1911 - Finch Hatton to Netherdale.

Sources:
Kerr, John. (1980). Pioneer Pageant. Mackay, QLD: Pioneer Shire Council.
Ling Roth, Henry. (1908). The Discovery and Settlement of Port Mackay, Queensland. Halifax, U.K.: F. King and Sons Ltd. p. 68, 75, 76.

Manning, K.W. (1983). In Their Own Hands. Farleigh, QLD: Farleigh Co-op Milling Association Ltd.
The Daily Mercury. (1912). The Jubilee of Mackay, 1862-1912 Fifty Years, Mackay QLD: The Daily Mercury. p. 50, 51.

Registrar General, Registry of Births, Deaths and Marriages, Department of Justice and Attorney General, Queensland Government. Queensland Births Deaths and Marriages, Deaths 1910-1914, [Microfische] Sheet No. 002, Page No. 311, Registration No. 12/B 016315.

Registrar General, Registry of Births, Deaths and Marriages, Department of Justice and Attorney General, Queensland Government. (2000) Queensland Pioneers Index 1829-1889 – Index to Births, deaths and Marriages in Queensland 1829-1889. [Computer Program]. Brisbane, QLD: Queensland Government.

(1962, April 6). The Daily Mercury, 1962 Centenary issue.

(1983, February 8). The Daily Mercury.

(1983, February 21). The Daily Mercury.
(1983, June 29). The Daily Mercury.
Queensland Pioneers Index, 1829-1889
Queensland Federation Index 1890-1914.
---
OBITUARY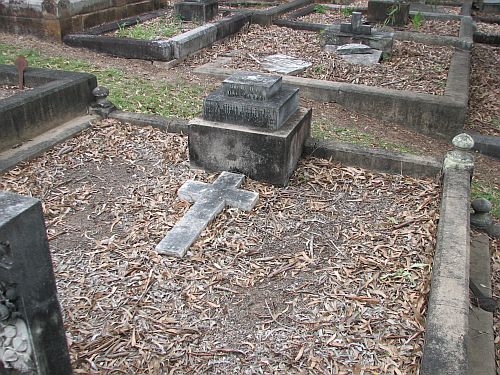 The Grave of David Hay Dalrymple, Toowong Cemetery, Portion 12, Section No. 53, Grave No. 2.
(Glen Hall Collection, taken December 2007.)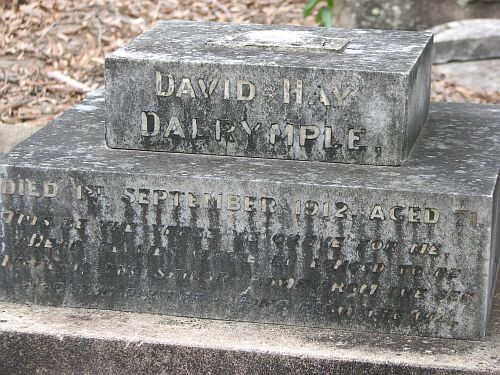 A closer look at the Headstone inscription.
(Glen Hall Collection, taken December 2007.)
Hon. D.H. DALRYMPLE
Brisbane , September 1
The death occurred at his residence today of Hon. D.H. Dalrymple.

The Hon. David Hay Dalrymple was born in December 1840, at Newbury, educated at the Independent College, Taunton, and the Bristol Medicinal School.
He came to Melbourne in 1862 and to Rockhampton a year or so later, thence coming to Mackay. One of the very oldest residents, and closely identified with the Mackay district since his arrival here, the late Mr. Dalrymple was probably Mackay's best known inhabitant. Of his early life here very few are resident long enough to tell; but all agree as to his interest in the district and to the excellent services he has rendered to it.

Originally the deceased gentleman was a chemist, plying his trade in a shop he shared with McBride Bros. (general storekeepers), in Sydney Street, about where Tattersall's Hotel now stands. Then shops were built near where Parnicott's Sydney Street shop is now, and Mr. Dalrymple opened in one of them on his own account. He was the first chemist boasted by Mackay and at that time chemist meant general medical adviser, as there was no resident doctor here. Mr. Dalrymple had under him a Mr. Abrahams, who subsequently took the business over and removed it to the shop which is now occupied by Mr. W. W. Holyoake. Pastoral pursuits then claimed the deceased gentleman's attention, Hamilton Station being owned conjointly by him and Messrs. James and Robert Martin (some of whose descendants are now resident in the Mandarana district), until politics took him to Brisbane and made him only a casual visitor to his constituency.

Of the late Mr. Dalrymple's public life much might be written. Always prominently associated with the district's representative affairs, he was elected to the first Council appointed in Mackay in 1869, and was appointed Mackay's first Mayor, a position occupied by him until 1871. He was not on the Council for 1872, but was re-elected and again appointed Mayor in 1873 and 1874, after which he finally retired.
In politics he was first elected for Mackay in 1884, and ably represented the district until 1904. He was Minister for Public Instruction and Works in the Nelson Ministry, and held the same portfolios in the Byrne Ministry. In the Dickson Cabinet he was Minister for Education and Lands, and after being Minister without portfolio in the Philp Ministry, he was appointed to be Minister for Public Instruction. In 1904 he was defeated by Mr. Fudge, although by many his defeat is attributable to a quarrel between his supporters and his party rather than to himself. His death removes one of the leading figures of the State.

The particulars mentioned above concerning Mr. Dalrymple's political career were wired by our Brisbane correspondent. "Who's Who" gives it as follows: -
Represented Mackay 1888 to 1904;
Secretary for Public Instruction 1895-1899 and 1902-3;
Public Works 1896-98;
Public Lands 1899;
Member of Executive Council 1888-1901;
Secretary for Agriculture 1901-1903.
Source:
Obituary: Hon. D.H. Dalrymple (1912, September 2) Mackay Daily Mercury.
---
If you can supply any further information or photographs on the above please contact us by EMAIL
Glen Hall
---
---
© Glen Hall 2001-2017.
last updated 17 July 2017 .
Site maintained by Glen Hall.