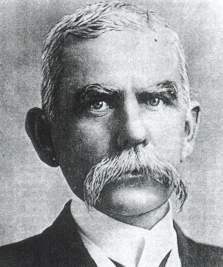 Born: 11 June 1867 (Bowen, Queensland)
Died: 6 November 1913 (at Sea off Sandy Patch, near Gabo Island,
South-eastern Victoria)
Buried: 15 November 1913( Mackay Cemetery, C. of E. Sect. 2, Row 2, Plot 10)
Parents: George SMITH and Jane MORRISON
Marriage:
Religion: Church of England

---
Obituary
Cecil Garcia Smith
FELL OVERBOARD FROM CANBERRA
BODY RECOVERED
A feeling of profound sorrow was apparent throughout the town yesterday, when it became known that the death had occurred, under circumstances tragic enough, of Mr. Cecil Garcia Smith, Manager of the local branch of Howard Smith Coy. Limited the well known steamship agents. Mr. Smith had not enjoyed good health for some time past. Following on a trip to the north, he was taken seriously ill and his life was then despaired of. His many friends rejoiced at his recovery and heard with pleasure that he had gone south to recuperate, visiting S ydney and Melbourne, whence came satisfactory reports of his recovery and intended to return to Mackay.
It was consequently with terrible shock that advice was received on Thursday night that he had been lost overboard from the steamer Canberra, between Melbourne and Sydney, the news being sent by wireless from the vessel. It was stated that the body was recovered and was being taken on to Sydney. Subsequent advice intimated that the body was being embalmed preparatory to its being brought to Mackay for burial. And so has been taken from us another of the older residents, a kindly gentleman whose courtesy and manly qualities have brought him numberless friends and unstinted respect.
The deceased was about 46 years of Age. He was born in Bowen; but came to Mackay when quite a boy. His father was Mr. George Smith, now deceased, who was closely connected with the progress of this town and district, a member of many of our public bodies, and one time Mayor of Mackay. Mrs. Smith still resides here. Mr. Cecil Smith did not marry. Following the way of his father he occupied many prominent positions in Mcky public life. He was a member of the Town Council from 1897 to 1904, and Mayor in 1902. He was a member of the Harbour Board for years, and Chairman of that body, and most of the lesser institutions of the town owe much to his unselfish, capable services.
For many years he occupied a place on the committee of the Mackay Turf Club. In his business he continued to make the Howard Smith Coy., as popular in Mackay s any of the Shipping Companies, and his place will not be an easy one to fill. His mother, for whom he had a great attachment, is left to mourn him, and with her, one brother and three sisters. The brother is Mr. H. Lee Smith, Manager of Homebush Mill. One sister is Mrs. G.T. Lloyd, widow of the late Dr. Lloyd who was killed by a fall from his horse. Another is Mrs. Westbrook, of Melbourne, and another, Mrs. Gemmel Smith, is understood to be in London. One brother, Robert was drowned in the river while bathing about 12 years ago and another died in Sydney some years before.
___________________________
We received the following telegram from Sydney last evening:-
Cecil Smith, a passenger on the steamer Canberra from Melbourne to Mackay, disappeared overboard during a heavy sea off Sandy Patch, near Gabo, on Thursday afternoon. The body was recovered 25 minutes later. The deceased was Manager for Howard Smith Coy., Mackay.
A later message from Sydney, which reached this office at 1 o'clock this morning, reads:-
"Mr. Smith was seen leaning over the rail near the smoke-room, and several of his fellow-passengers were horrified to see him go over the side. The cry of "Man overboard" was raised, and the Canberra, which was doing 16 knots before the gale, was brought round, and steamed to where Mr. Smith had fallen overboard. A boat was quickly launched. Those on the Canberra felt very apprehensive about those in the boat, which was buffeted about very much. Mr Smith's body was picked up. It was floating face upwards, minus coat and boots, which had apparently been removed by Mr. Smith in the desperate hope of keeping up, when he saw the Canberra coming towards him. Mr. Smith had been in the service of the Howard Smith Coy. for 30 years, and was highly popular. He was returning froma trip to Melbourne."
---
THE LATE MR. CECIL SMITH
CORONER'S INQUEST
SYDNEY, November 21
A verdict of death through accidental drowning, was returned to-day at the Coroner's inquest in the case of the late Mr. Cecil G. Smith, aged 45 years, and manager of the Australian Steamships, Limited, at Mackay. Evidence was given by the captain and officers of the steamship Canberra, that on the afternoon of November 6th, on the run from Melbourne to Sydney, Mr. Smith, who was a passenger, was on deck watching a game of deck billiards. Mr. Smith was seen to raise himself on to the rail as if to sit on the rail, and went over the side. The sea was moderately rough at the time. Although he had lately had a severe illness, Mr. Smith was in the best of spirits at the time of the fatal occurrence. He was returning from a health trip to Melbourne.
Source:
The Mackay Standard, 3 November 1913.
---
Sources:
Daily Mercury, Tuesday, November 2, 1999.
Mackay Branch Genealogical Society of Qld. Mackay Cemetery Burial Register.
Mackay Branch Genealogical Society of Qld. Mackay Cemetery Monumental Inscriptions.
Queensland Births Deaths and Marriages, Births 1865-1869, Page No. 807, Registration No. 67 / 000071.
Queensland Pioneers Index, 1829-1889
Queensland Federation Index 1890-1914.
---
If you can supply any further information or photographs on the above please contact us by EMAIL
Glen Hall
---
---
© Glen Hall 2001-2017.
page created 15 July 2003.
last updated 17 July 2017 .
Site maintained by Glen Hall